Community Profile of Djidjan

Your Sponsored Child Community!

Today we are going to visit your Sponsored Child's community of Djidjan. Djidjan comes from the local Malinke word "Djidjan" meaning "At the border of the big pond". Djidjan is located 18km north of Kita and 103km from Bamako, the capital city of Mali. The climate is soudano-sahelien, and is characterised by two seasons. The first is a rainy season from June to October. This is followed by a dry season that is split into two parts. The first part from November to January is dry and cold, and the second part from February to May is dry and hot weather.

The population is approcimately 33,299 persons with about 48% being female. 98% of the population is Muslim and is essentially composed of two ethnic groups, Malinke and Bambara. There are some Bozo, Fulani and Sarakole. The predominant language is Malinke.

The road from Kita to Djidjan is accessible in all seasons by vehicles, motorcycles, donkey carts and bicycles. But sometimes, after heavy rains, it becomes non-operational for vehicles. On the jorney from Kita to Djidjan you can see hills, fields of millet, peanut, cotton and maize. The vegetation is essentially composed of trees such as shea and "nere", and big tufts of weeds. During the dry season, the fields become pastures where domestic animals such as goats, cows and sheep graze and enjoy the remaining cereal and cotton stems. From the town of Djidjan you can reach all the surrounding villages by land. The populations generally travel by donkey carts, motorcycles or bicycles.

In Djidjan and in each surrounding village, there is a specific place called a "Guala" where men can meet and discuss diverse issues. The houses generally are built together and are made with mud, with the roofs made with straw, and some are in corrugated iron. There are granaries in which the cereals and other materials are kept. Often, more than four households share one house. The chief of the house is the eldest male. He has his own room, keeps all the administrative documents, and makes decisions. The household is based on polygamy. Generally, small girls sleep with their mothers or grandmothers and small boys share the same room. The daily food for your sponsored child is made with millet and peanut sauce. The population also consumes fruits, vegetables and fish. Nevertheless children in the communities face malnutrition problems due to the lack of appropriate nourishment. Rice is consumed during big ceremonies.

Within their houses, the rooms generally are not ventilated because of their small and confined windows. Each house has its own traditional latrine. Sewage systems do not exist. People keep their garbage inside or outside the houses to use it as fertilizer for the fields. Animal enclosures are located inside the houses. All these factors cause water pollution and hygiene-related problems.

Traditionally, women take care of home, cultivate during the rainy season, and do small trade all year round. Children like your sponsored child frequently work to help their parents with the household chores, agricultural work, and to herd the cattle. Even in these challenging life circumstances, children do find time to play late in the afternoon. Boys play football with plastic balls. Girls usually play with skipping ropes. Hunters and "griottes" (traditional singers) events, as well as batter-operated televisions, are the main entertainment of younger adults.

The economic activities are essentially agriculture, gardening (tomato, onion, lettuce, aubergine), fruits (mango, lemon, papaya), small livestock and trade. The marriages and other traditional feasts such as circumcisions are set up during the dry season. There are five weekly markets in Djidjan and surroundings where all the villages come to sell and buy diverse foodstuff as well as to meet and discuss diverse issues.

There is a pattern of rural depopulation occurring in Djidjan, with migration from the villages to the more urban centers. After the rainy season, men and women from 15-30 years old often travel to big cities such as Kita and Kayes, or to other countries such as Senegal, Gambia and Ivory Coast for socio-cultural and economic reasons. Some only remain for the dry season, but some stay 1-2 years. Girls usually travel to look for more income to prepare their wedding hope chests. This pattern of migration has led to serious health issues like HIV/AIDS and STD.

In Djidjan and surrounding villages, there are eleven primary schools, of which six have been built by Plan. After the sixth grade, parents have to send their children to Djidjan town where there is one "second cycle" - up to ninth grade. This may be as far away as 20km. There is also one health center in Djidjan town, which serves the town and all the villages. This year, Plan has donated some equipment to this center. Traditional wells exist in almost every village. There is a lack of water boreholes and improved wells. Furthermore, there is a lack of teachers, health workers and equipment. Government resources cannot cover these services. To make matters more complicated there is no electricity, nor telephone or post office service.

To achieve our vision of a better world for all children, your assistance is vitally needed. Through your support, we can collaboratively design and successfully implement community development activities such as construction of schools, procurement of equipment for health centers and schools, training for teachers and health workers, hiring teachers, digging of large diameter wells, training and sensitization on basic health issues including nutrition.

Your support will help establish a pathway for this community to define and achieve a positive destiny for itself. In a more personal sense it will give your sponsored child an increased sense of hope and encouragement.

The people of Djidjan and Plan staff welcome you to Djidjan, a new part of your expanded world community.


Sacred tree called "Sourou" in Djidjan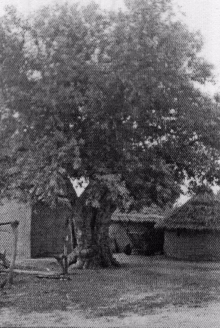 Local men resting on Guele.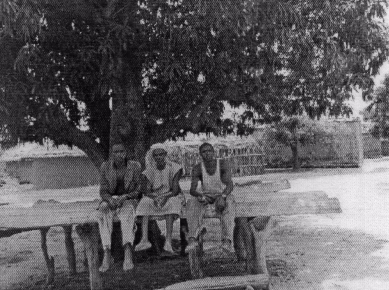 This page last updated: 19 July 2004
---


If you have a comment, please leave it in the
guestbook
. To contact Flash directly, complete
this form
.
Like this site? Buy me a drink!
This site moved from a fixed width to the current layout in 2009. Some older content such as photo sets may still have a fixed width. However if you notice any pages which are actually broken, please be kind enough to let me know via
this form
.
© Flash Wilson 1999-2010.
I charge a fee for use of my photos
.
---