Fireworks Party 2005
On 6 November 2005, Paul (aka Mr
Goldenpants
) laid on his annual fireworks show at his house. Like last year, we were as far back as we could get... about six metres... and happily unlike last year, these fireworks were very well anchored and all went into the sky away from the spectators!
It was a fabulous show as ever. If all you want is the finale, please click
to view (87Mb Mpeg)
. It's 77 seconds long.
I took my camera as I'd never photographed fireworks before and wanted to learn how to use the manual settings.
This guide
gave me some useful starting points, and I was away!
Instead of my usual commentary, I have put a black background for the fireworks themselves, as I feel this shows them off best. So just a few comments here and there!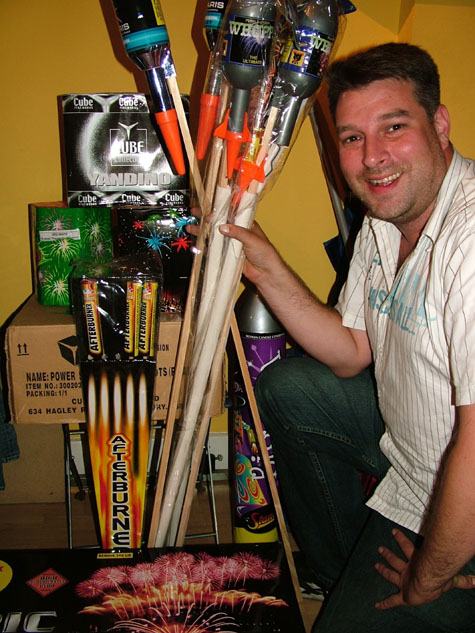 View fullsize
Paul with his amazing stack of fireworks ready to burn!

Thanks to Paul for hosting an amazing night of fireworks! We hope you liked the Bison Vodka that we brought you!

---


If you have a comment, please leave it in the
guestbook
. To contact Flash directly, complete
this form
.
Like this site? Buy me a drink!
This site moved from a fixed width to the current layout in 2009. Some older content such as photo sets may still have a fixed width. However if you notice any pages which are actually broken, please be kind enough to let me know via
this form
.
© Flash Wilson 1999-2010.
I charge a fee for use of my photos
.
---