Nine Inch Nails
Seen at Brixton Academy in December 1999 (both dates) and Glastonbury 2000.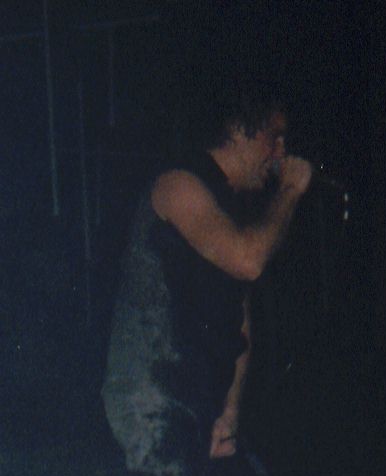 Each of these gigs were simply amazing. Both Brixton gigs were to promote The Fragile, and were a mixture of beautiful Trent/piano solos, and old favourites. Predictably, we went wild during Closer, cried during Hurt, and could not get enough of Trent. However, just as the heat was rising and the audience were getting hyped up, a screen came down onto which were projected images of cells reproducing and rippling waves, while everyone took a breather and cool air blew over us. Through the screen Trent and his keyboard could just be seen, producing a wonderful instrumental break before the screen went up, the music swelled and we were back in the thick of industrial sound again. So the music was excellent, Trent was on form, the stage show was well thought out and the whole experience was fantastic.
At Glastonbury 2000, I was (yet again) pressed against the front rail, drooling at Trent. Ok, so the guy is plain ugly, but he has so much charisma that in any one instant when you look at him, he is the most gorgeous, the only, man in the world. At Glastonbury he could not bring down a screen, but again played a good mix of popular tracks and weaving instrumentals, to a bouncing, delighted crowd.
One thing that stands out - every time Trent sings, he seems to mean it. Every thought seems to cut like the first time he felt it, he wails, and sweats, and agonises as if his own lyrics still hurt him. Given the apathy of other performers - who people happily pay to see, and merrily sing along with - Nine Inch Nails are rewarding, they make you feel like they are not just taking your money, but sharing experiences with every wounded soul in the audience, bringing us together.
I managed to salvage a pick from their Brixton shows - probably a bass pick. I don't know why, but I seem to play better when I use it. NIN do that to you.
This page last updated: 01 September 2022
---


If you have a comment, please leave it in the
guestbook
. To contact Flash directly, complete
this form
.
Like this site? Buy me a drink!
This site moved from a fixed width to the current layout in 2009. Some older content such as photo sets may still have a fixed width. However if you notice any pages which are actually broken, please be kind enough to let me know via
this form
.
© Flash Wilson 1999-2010.
I charge a fee for use of my photos
.
---