Garden Journal
I have decided to keep a page showing my garden changing, in order to keep the plans on track! To see how it started life, scroll down to the photo on April 1st.
The plan is to keep the hedge on the left, to have a digging pit for the dog and a raised bed herb garden in the wider bit on the right , with fuchsia bushes further down to the end, rocks around the climbers along the back as an anti-burglar measure, and turf filling most of the central space, around 4.5 x 11m. I also plan to have a barrel pond on the concrete near the house with other plants in tubs around it and nearby for a patio area. I'd love to use the alleyway down the side of the house for skittles, but that would require re-concreting - too big a job for me right now, and it's better used for storage.
On 20 August 2006 the neighbours will be coming to a produce sale in my garden. Last year
we held a plant sale
and the land was rather barren, so I hope that this year people are more impressed!
Let's see how I get on.... most recent entries at the top.
---
May 11
It's finished! I'm amazed I managed to stick to my plans and get everything done. The garden looks (and smells) like a great place to be, with lots of plants growing and coming into bud ready for next month once the turf has taken. Even the holly in the hedge is in bloom for once. Can't wait to invite people round and enjoy lots of evening drinks out there. All I have to do is lots of watering... I've managed to get the garden from a wasteland to a little haven in six weeks - thanks to Deal or No Deal providing me with a little spare money - and it's something I can manage with my bad knees, and which also accommodates the dog's needs. Fab!
I've also attracted some new bird species this year - as well as chaffinches and sparrows, I have a starling which comes to visit, and I've even heard a cuckoo. This compliments the robins, great and blue tits, crows, magpies and blackbirds. Such an improvement on last year, and the pigeons are starting to stay away. Next year maybe I'll get some more new visitors!
So I end with some photos. Click on any to see them larger. Anyone who's been following who fancies an invite or to pop in,
get in touch
!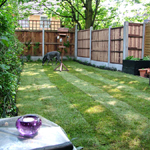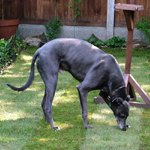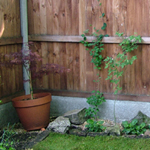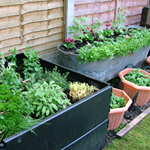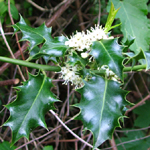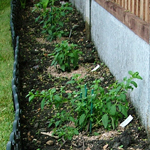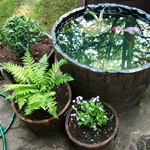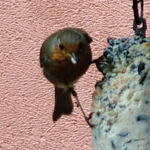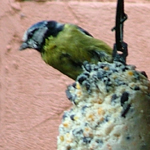 ---
May 10
Watering is really boring, isn't it? Important tho...
Here are a few photos of the lawn being laid, click on any for a larger image.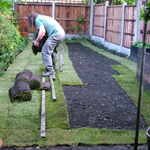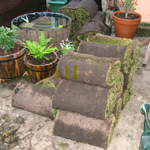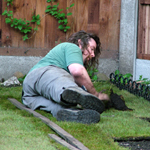 ---
May 9
The turf was booked for an AM delivery - it came at quarter to four! Oh well, it's all done now...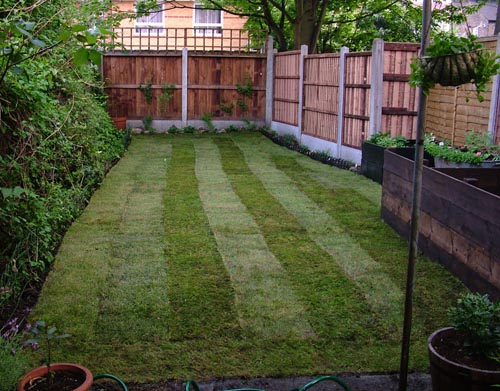 Ta-da! The garden is transformed.
---
May 8
I was out before 9am in the pouring rain, fertilising the soil and getting huge lumps of it stuck to my feet - it's so sticky! Then the sun came out and I could fulfil my hedge-trimming duties. I hope it's fine for turfing tomorrow. I'm really excited about getting the last job done.
Also, Stripe now has a friend, a London Shubunkin called Splodge. So much for not wanting to put fish in my pond... but the mosquito larvae has disappeared, so they are doing their job.
---
May 7
Lots of rain last night softened the ground, and lovely blue skies this morning meant that Jeff the fencer made quick work of turning the soil (and digging out the weeds) ready for the turf. He wasn't well, so he didn't get it to a fine tilth, but we have trodden and raked it ourselves (since the photo was taken).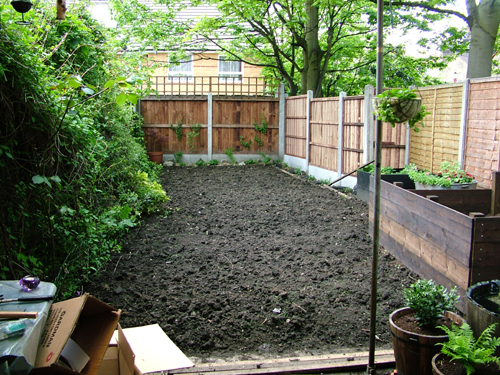 All that's missing is the turf!
Stripe is still looking well - even came to say hi when I went to the pond. I offered some food but he hasn't taken it yet - but I spotted a few wrigglers (mosquito larvae) so I imagine he is happily munching those instead.
---
May 6
Pond crisis... In the absense of tadpoles to eat my mosquito larvae, I bought a small goldfish. As soon as I put him in the water he was gasping, so I whipped him out again and into a bucket of clean water. The barrel must have been leaching something toxic - even though it's sold for use as a pond - no wonder the tadpoles didn't last. So we bought a liner, emptied the pond, attached the liner and refilled. The fish is currently happy in the pond. He's called Stripe.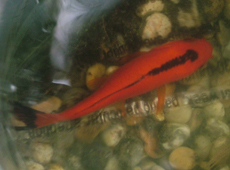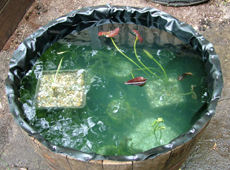 Stripe the goldfish, and the pond as it is now
---
May 5
My drainpipe baskets arrived today; they are kidney shape and the bottom two each hold two of the Impatiens I rescued. The top one contains the Creeping Jennies I received in error instead of my waterlily (they trail very well, and I've mixed in some clay to keep them damp), and another Impatiens. The last one went in the bin, but fair enough. Five plants out of 39p is ok, and they are all in bud.
I also had a squirrelproof seed fort, which is hanging from the lean-to, and the edging for my fuchsia border. I can't get it into the rock hard soil, so I've watered it for now, I'll try again later. A good bit of rain, that's what we need!
Everything is growing happily and looks well. I never used to appreciate Spring before, but I'm learning to.
---
May 4
Gardener coming to turn the soil on Sunday, turf coming on Tuesday for Mike and I to lay. Nothing else to report.
---
May 3
The six Impatiens I rescued yesterday for 39p have all reacted well to being repotted and watered. But I can't see any tadpoles today - which is rather worrying.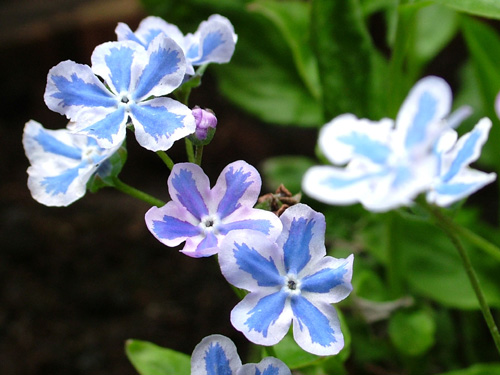 Navelwort Starry Eyes
---
May 2
Right. The garden is pretty much finished so apart from the turfing
I must stop buying stuff!
Well, apart from today's order, obviously... I saw
these drainpipe planters
on a website and thought they are just the thing to finish off the alleyway. Along with some edging for the fuchsia border. Well, and a squirrel-proof seed feeder. And a pedal-operated cat feeder. But that's IT! No more!
(I saw some Impatiens which were reduced from £2.99 to 39p at Sainsbury's - I did snap them up for the planters, but I reckon at 6.5p a plant, that's not a massive overspend.)
Cray and I played outside just now and he is getting the hang of running round madly, then hopping into his pit to dig, then hopping out to run some more... (repeat x3). I can see that we will have to be careful with the new turf, and when it's established I might have to do a certain amount of treading down the divots after every burst, but I think it will all be ok.
---
May 1
There was a good lot of rain last night, which means the pond is looking good, and the blackbirds are hopping about digging up worms. I noticed my rose is in tatters - I suspect a squirrel tried to use it to get to/from a bird feeder. There's still one forlorn branch with a bud on it, so I'll leave it to recover. However - I have done not a single task in the garden today!
Although I do find myself wondering about nice edging for my borders, and how about some solar lights for parties...
---
April 30
Today we put things in the shed, swept up - and the patio is now as I intended - a pond area, a scented area, spiky plants down the alleyway, and a seating area for when people come over and need a smoke, or when I am potting things up.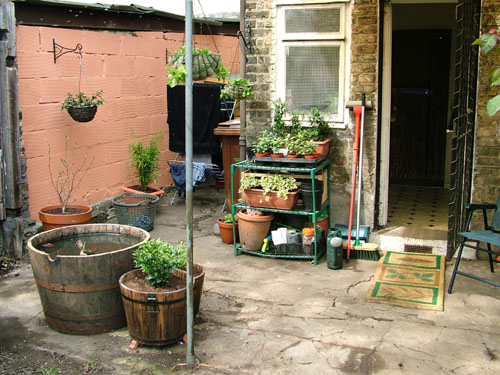 Pond tubs and alleyway (ignore the clothes!)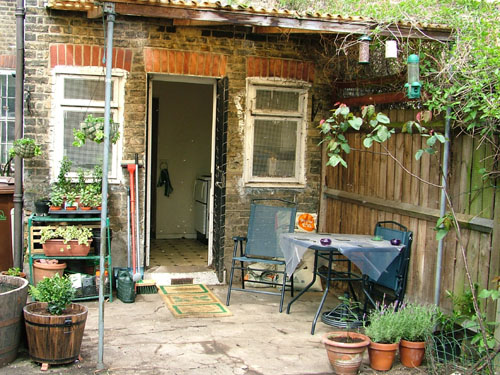 Seating area and scented plants
Now the only jobs left are to repot my blue fuchsias (everyone seems to want one, I should have got twice as many as plugs) and to do lots of watering! This week I'll book the chap to come and turn the soil, and get Mike to take a day off next week to coincide with arrival of turf.
A few extra things to note - the chaffinches are now frequent visitors along with (for the first time) a sparrow. This adds to the blue and great tits, greenfinches, magpies, rooks, robins and blackbirds that we often see. So my bird food is definitely attracting newcomers. And when I was up early(ish) this morning I heard a cuckoo as well as the trill of greenfinches. That was a first! What I'd really like are butterflies. The houses opposite have blue butterflies and green woodpeckers. I'm jealous!
---
April 29
The toadpoles, prototoads or whatever you should call tadpoles that are toads, survived their first night and gave me a challenge when skimming the pond as usual this morning! They are wriggling around, and clinging to the side or sitting on waterlily leaves. Now to find out what they will eat! When they are older they can have mince, like the axolotls, but for now I think I will try them on micropellet fish food - it's like coloured dust. There's algae in the pond anyway.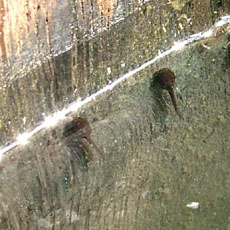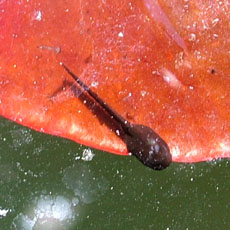 Also, I have sprayed herbicide on some of the tougher plants that are encroaching where the turf is going to be. There aren't many, but those that are left are tough buggers!
---
April 28
My last lot of plants have arrived! So that's the delphiniums (blue) into the back of the bath planter, the japanese maple into its pot, the magnolia can wait for a big pot and the right compost... and lots of watering to do too!
Some photos of progress, click for fullsize... The pond has a few extra plants around it and the patio's a mess while I work there, but we are getting there.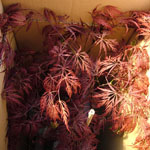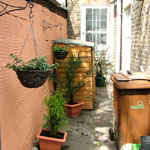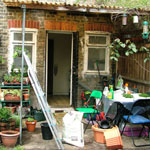 Maple in its box, alleyway and patio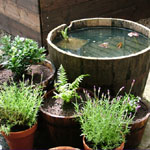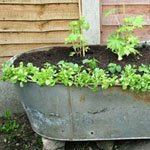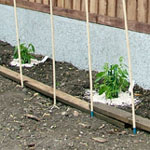 Pond, trough and fuchsias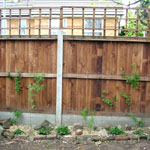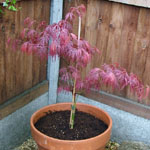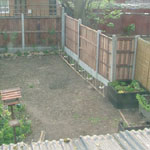 Back border, maple in pot and general overview
And this evening my friend gave me some toadpoles, which I have carefully introduced to the pond and as I type they are finding themselves places to hide...
---
April 27
It's all coming together! My friend Pepsi helped me make up hanging baskets yesterday, and drilled the holes in my zinc bath. Today my hardy fuchsias arrived - two weeks earlier than I expected - and I have planted them in front of the new fence, protected with sticks. Then for the bath planter, which now contains trailing lobelia at the front, then petunias and red salvia, and the back half has love-in-a-mist seeds, and a space for my three delphiniums. Mike has installed my hanging basket brackets in the alleyway, so last night's handiwork has an outlet.
All that's left now is to put the tools in the shed and tidy up the lean-to, to wait for the japanese maple and magnolia for their containers, and to organise the turfing! I had thought the turfing might happen at the end of May, but it will be much sooner. I'm really pleased.
---
April 26
Today I am going to make the alleyway look a bit better (well, I'll move some plants about and tidy up!) and I have also got some salvias (and lots of fuchsias) to add to the lobelias and petunias, these can go towards hanging baskets later this evening. A friend is coming over and I shall enlist her gardening skills to help with my new containers. Splendid.
---
April 25
I have some plants for the old zinc bath (as it seems to be). Trailing lobelias for the front, then petunias for the next row back - then Love In A Mist seeds for behind that - and I am ordering 3 blue delphiniums to go in the back. I also have a metal drill bit ready to put drainage holes in it before I start. The lobelias and petunias were very cheap and came in large quantities, so I will use some of them in the hanging baskets for the alleyway.
Apart from shopping, all I've done today is go with Mike to get some new roofing felt for the shed, because what it came with was damaged. By the time we came back he could tack it on, but it was too dark to do anything else so the rest has to wait. Frustrating, because I don't have much work on! Maybe I will try to drill the bath myself...
---
April 24
Find of the day: an old metal trough. I had been wondering what to do with the space between the herb garden and the digging pit (can't turf it; there's a tree stump in the way) - I had thought of putting lots of pots down but now I have a large metal planter! If I can get it to gush with flowering plants or something it will look quite nice. Better than the space it occupies, anyway. Ideas for it on a postcard... It's 50" long, 20" across and 13" deep. So just as I had thought there was little else to do but turf, I have a new project!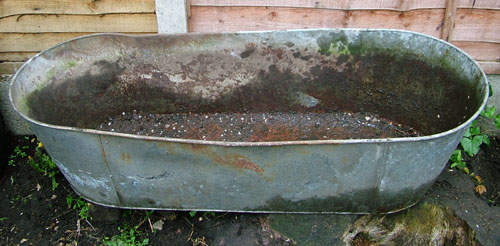 And here's a photo of my herbs, which have sprung up a lot from being planted. I'm looking forward to lots of garnishes and herby salad dressings.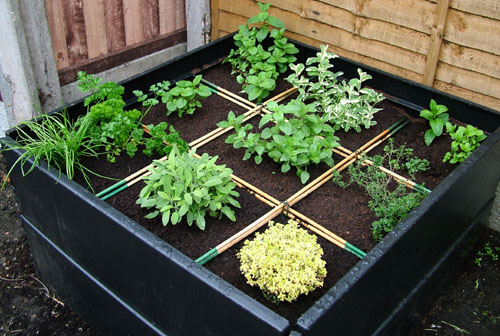 ---
April 23
The shed is nearly finished - it just needs the felt to be put on, and the catch to go on the doors, which we will do tomorrow, weather permitting. Then I can shuffle my plants around so the alleyway looks nice, and next weekend Mike will put up my hanging basket brackets to finish the job. The alleyway will be an eyesore no more!
---
April 22
The pond water is clearing and the plants have grown quite a bit, my herb garden is planted, and Mike has started on the shed. We are getting there - soon all that will be left is the turfing!
---
April 21
The fencing is done, the alleyway is painted - and just as I was about to plant my herbs, it started raining. Can't win 'em all!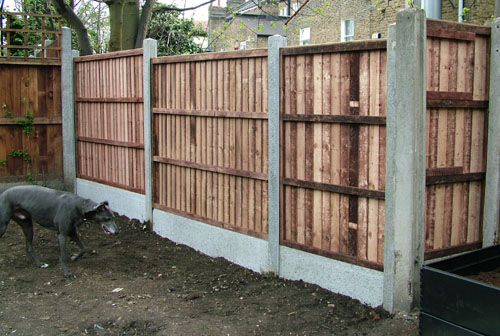 ---
April 20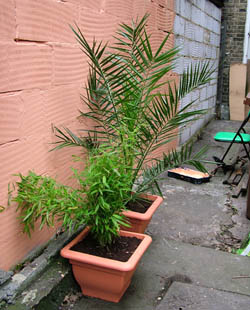 Painting breeze blocks is frustrating. They just eat paint! On the plus side, it's so thick that I won't need another coat - and it hasn't rained yet. The half I've done so far definitely looks better, doesn't it?

I had to bin the toadspawn unfortunately, but I look forward to getting some toadpoles from my friend when his hatch - hopefully that will work out.

Oh, and the fencers are coming tomorrow! That was very quick!

---
April 19
So much to do, so little time! I now have paint for the wall in the alleyway (to go on before we build the mini shed in front of it at the weekend), some plants for the alleyway (date palm, bamboo, might move the phormium from the front too), some hanging basket bracket kits for the alleyway, and some lavender for patio pots. Also, my raised bed kits are finally here so I have to sort them out and plant out my herbs. Oh, and I found a pickerel weed kit on special offer so I will have another pond plant when it grows. All of these things need sorting... I don't think I will be buying anything else for the garden for a long time!
Although I have ordered a Japanese Maple and a Magnolia with the Crocus voucher (thanks, sis-in-law!) - the Japanese Maple will go in a big pot in the back left of the garden, so we can move it when we need access via the back, but so that generally it blocks burglars and fills the gap. The Magnolia was an extra because Mike liked the look of them and will go in a pot near the patio.
The fence company have given me a quote, so now I need to schedule them - they are also able to find me a chap to turn the soil for turfing, which will be good if I can afford them.
---
April 18
The mini shed has arrived! And I am trying to work out how to brighten up the alleyway along the house - next door have said of course I can paint my side of their breeze block wall, so that's a start.
The pond plants are growing slowly but surely - the waterlily leaves have only an inch to go before they break the surface. The toadspawn looks to be dying, though. I've been promised toadpoles if nothing hatches.
---
April 17
Today we ordered a "wooden maxi store" (think baby shed) for the alleyway - it'll come tomorrow - and got on with other work and DIY tasks. But things are continuing to grow; every time I look at my fern a new frond is unfurling. Also, we received a gift voucher for Crocus from Mike's sister and family, which was very kind and will be well spent!
---
April 16 (Easter Sunday)
Despite their claims that they would be open all 4 days of the weekend, B&Q is closed. So all we can do today is repot my trailing fuchsias, take the old coal bin to the tip (which IS open every day) and sort out our new garden furniture. Which we have done.
And when he thought I wasn't looking, Cray dug in his pit!
---
April 15
The digging pit is finished! We put 6 bags of sand and 5 sacks of compost into it, and it will probably get more compost tomorrow, but the dog seems to like it anyway. I thought he might dig but he made himself a space and lay in it... getting covered in mud...
I also bought some gravel to put around the plants in the border at the end, and collected some toadspawn which is sitting around an iris in the pond. Hope they hatch!
Photo time! Click on any to enlarge.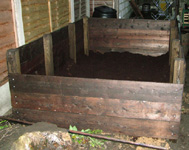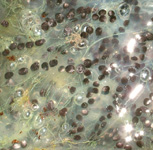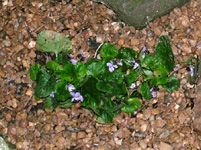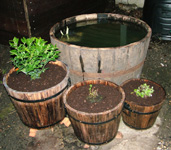 ---
April 14 (Good Friday)
Today my plants have decided that spring is truly here. My little fuchsias have grown overnight, my daff bucket has flowers, and there are lots of tiny yellow buds all over my broom in the front garden.
Mike and I have also sprung into action - Mike has finished building the digging pit and now we need to obtain a vast amount of compost and sand to fill it... We took the old moulded plastic furniture to the tip and bought some nice new stuff - 4 blue chairs, table and parasol. While there I spotted some half-barrel style planters in three different sizes which were ideal to put around the pond, so at last my Sweet Box, Lady Fern and Navelwort have homes. It's all starting to come together!
Also, I moved the viola; when I dug it up, it naturally broke into six smaller clumps so I have planted them along the rocky back border.
Next I need to repot my trailing fuchsias. Tomorrow I will be getting some local toad spawn, and we are also investigating storage such as a tiny shed or lockable box for the alleyway.
---
April 11-13
No progress - lots of work to do, and it's raining. But it's a 4 day weekend coming up, so a lot will be done shortly! However I did see and hear a chaffinch in the garden for the first time. It was pretty and very noisy!
---
April 10
The plants for my patio tubs arrived today, all excellent specimens from
Crocus
as ever (and great value, I must stop going to B&Q etc and order more online). The sweet box is now installed in a large terracotta pot, the others will have to wait until their pots are freed up by the tenants going into my herb garden. The raised bed kits for that should come soon.
Not a lot else to report; the pond water has turned green now that it is freshly planted which is no surprise and should right itself over time. My preferred fencing company will come out next Wednesday to give me an estimate - I might see if anyone else can come sooner, but it is Easter this weekend.
However, I did rediscover a photo of the garden from 2002 in the details of the property before we bought it. This was its best view:

A fence panel hid the rubble at the back.
---
April 9
Good news! The neighbour with the damaged fence has told us to go ahead and fix it, and send him the bill. This makes me really happy, it's been a weight on our mind, as well as an eyesore, for months!
Work started on the digging pit today. This really involves Mike more than me, as he's the one who's good at digging trenches, gluing and screwing. There's still a lot to be done as we had other jobs on today, but it's started, so at last I can believe it will be finished!
---
April 8
My pond plants arrived, yay! They were the wrong ones, boo! So I was told to keep them anyway, and I drove off to find a nice waterlily to go in the pond along with the marginals and oxygenators that I did keep from what I was sent. Somewhere in the UK, someone who was expecting lots of marginal plants has been given a beautiful dark red dwarf lily...
I've mainly been focussed on the patio area today. I'd decided to move the shelves (which used to be part of a mini-greenhouse) against the wall so that there is room to display plants while they are growing in small pots, store my pots, and have something pretty outside the kitchen window. And then I realised it was "20% off plants" day at B&Q so I bought some variegated ivy to stick in a trough in front of the pots on the middle shelf, and some
carmel blue fuchsias
to pot on (not hardy but they should be pretty and I can contribute spares to the produce sale). Here's how the area around the house is coming along (the things on the left are my herb tubs, waiting to go into the raised bed next week):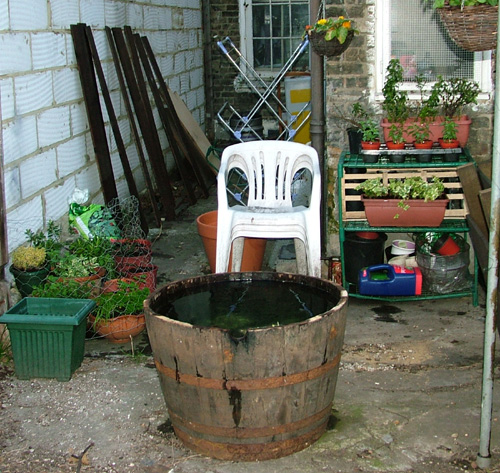 Imagine lilies on the pond, tubs of plants around it, with flowers descending from the hanging baskets, and it might be pleasant to sit out there in a few months!
---
April 7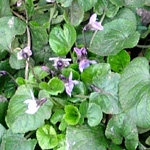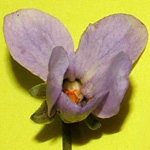 After discussing with my mother a plant that has survived on the floor of our garden for some time but is finally growing and flowering this year, it sounds like I have a viola of some kind. I'll keep that, then! Can anyone tell me what variety it is? (Click the images for fullsize.)
It's cold today, and probably going to rain. The smell of creocote is almost gone, which is a relief! I've picked out some fuchsias to order for the back half of the right hand fence. First I chose three... then four... now I have convinced myself that 5 will fit if I plant them 2.5 feet apart. Oh well! I've gone for the following - all hardy, with single flowers in red, pink, purple, blue or white, from miniature to medium size blooms:
Flash
(of course),
Hemsleyana
,
Magellanica var Alba
,
Sealand Prince
, and
Whiteknights Pearl
. Think they will look great once established!
---
April 6
I haven't done much today; just strung up some more wire along the back fence for the climbers as they are already higher than last year. My pond plants aren't here yet, grr. Hope they come tomorrow. I am also happily picking up after the dog every day; a habit I MUST keep so the garden stays nice once work is finished.
---
April 5
Today I have finished the creocoting, being a little less slapdash than yesterday, when I ended up looking like I'd been in an accident with soy sauce. I also bought some aquatic compost, ready for my pond plants when they come. And done lots of watering, of course - it's a beautiful day without a cloud in the sky! Cray slept on a patch of bare earth while I worked. I hope he will prefer it when the turf is down.
I've also ordered the plants to go in tubs around the pond;
Lady Fern (Athyrium filix-femina)
,
Navelwort (Omphalodes cappadocica Starry Eyes)
, and
Sweet Box (Sarcococca confusa)
- they should be here in time to plant over Easter.
Here's how it looks at the moment: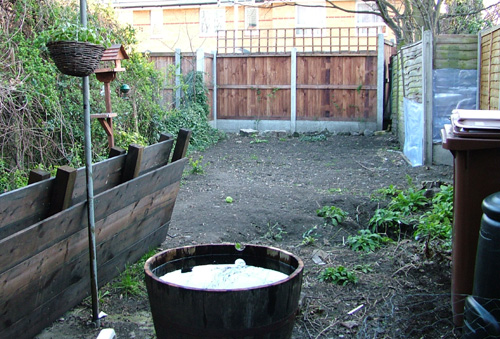 Incidentally, the gap in the hedge on the back left is a space where we removed an elder (it gives me hayfever) and put up chicken wire to stop the dog escaping. Two years later, the honeysuckle is slowly spreading along the chicken wire, so I'm confident the hedge will soon stretch all the way to the end. There's also a small sycamore at the end of the hedge, which will overhang the gap when it's in leaf. I do like that hedge, it provides shelter for lots of little birds as they approach the birdtable.
---
April 4
How high can frogs jump? I have bought a new terracotta pot which is a little shorter than the pond, and it along with my others of various heights will go around the pond like a staircase! Not sure what I'll plant in them yet.
Cray has torn the plastic down around the damaged fence *GRRR* so I have put that back today and tried to make it stronger. He has now realised he must not tear it, and tried to dig around it instead; this was hurridly intercepted with a game of fetch which ended when he got a nettle on his nose. Aww! At least it distracted him from destruction.
I've also planted my freesia bulbs (Tesco value ones, bought on a whim) and done some watering. Then to finish, some creocote on the wood for the digging pit (one side; I need Mike to come and turn them around for me to get at the rest!)
---
April 3
There was time for a little gardening after work, so today I have dug up and potted the bluebells (5 clumps of 3 kinds, MUCH easier to dig up than daffs!), and - seeking things to have in tubs in the patio area - spotted a purple hebe, also not sold in the plant sale, which was dying to be given a bigger pot. After that, I dealt with the damaged fence. We had put board against the holes and protected them with garden chairs, to stop Cray nosing (you can see this in the photo of the garden's original state), but I have now managed to tack some polythene sheet over the gaps. I'd tried before with nails, and the broken fence flexed too much to take them, but I had the brainwave that carpet tacks might be sharp enough, and they were! It doesn't look pretty, but at least we can use the space / have our chairs back / stop the putrid waste from next door causing a health hazard in our garden. I must chase their landlord about it!
I also ordered the kit for the raised bed and the pond plants. The pond plants should arrive by Thursday, and the raised bed kit should come next week.
---
April 2
I hate daffodils! I dug up 75 daffodils from all over the garden, which I replanted in a bucket and stuck in the front garden. A few are in bud so, much as I hate daffs, it might be dramatic or attractive in some way. When they've gone over for another year, I'll give the bulbs away. Next, I moved the bollard and got Mike to put the compost heap in its place (leaving space ready for the digging pit). I was really pleased when dirt fell out of the bottom - last year's waste has turned into compost! It really worked!
I planted some trailing fuchsias into a hanging basket, removed the old bird table and poured myself a glass of cava for a break. Mike managed to destroy the rambling rose when he tried to dig it up (oops!) but I discovered a pot of winter jasmine that was unsold in the plant sale at my house last year, so I have stuck that along the back fence instead and strung it up.
Finally, I positioned and filled the pond barrel - it took around 130 litres of water, plenty big enough to support plants and wildlife. Just as well it's not any bigger - seeing the water rippling and the reflections on it triggered my water phobia. I didn't think of that, as tanks are fine! Never mind, I'll order the plants for it tomorrow and the water won't show so much with them in place.
I'm so sore, my knees are killing me and I've gone to bed by 8pm!
---
April 1
Today I cleared the dog waste (a large task; it's been neglected over winter), rescued some of the daffodils that were falling into Cray's holes, bought 2 large packs of compost, trimmed last year's snapdragons (yes, they refuse to die!), pruned the hedge and gave the climbers at the end their first fertiliser of the year. The clematis, rambling rose and one honeysuckle have come back strongly, another honeysuckle failed but I found another rambling rose in the hedge, so I'll dig it up and put it in the space along the back.
Here's how the garden looks today:
---
March 2006
I bought some new bird feeders and attached them to the bird table. A half-barrel was bought for the patio pond, and plants researched. A friend has promised some toadspawn! Old dead pot plants were thrown away, and my herbs were moved to three large ceramic pots so they could grow, pending my raised bed for them later in the year.
---
2005
During the year we sowed grass over half the space (it didn't survive) and
we had the sick sycamore removed
. This left a large patch of bare earth which Cray would dig in, and some persistent plants which kept coming up no matter how badly they were treated. We replaced half the fence on the right, and hassled the owner about the damaged fence further up which would be harder to replace. We planted against the back fence, put up a birdtable and installed a compost bin.
This page last updated: 01 September 2022
---


If you have a comment, please leave it in the
guestbook
. To contact Flash directly, complete
this form
.
Like this site? Buy me a drink!
This site moved from a fixed width to the current layout in 2009. Some older content such as photo sets may still have a fixed width. However if you notice any pages which are actually broken, please be kind enough to let me know via
this form
.
© Flash Wilson 1999-2010.
I charge a fee for use of my photos
.
---