Advent Calendar - 23rd December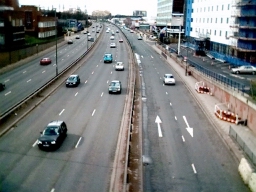 Today's image is....
the A406
.
This is my favourite road. Yes, I really do have a favourite road! Perhaps if you read
this section
you will find out why, and at any rate it will provide you with entertainment and points of interest for your next journey along it.
There is also a time-lapse video of a journey end to end along the North Circular (A406) which we made with a webcam strapped to a car; there are photos of the filming
here
for the similarly inclined (i.e. mad)!
Come back tomorrow for the next item in the calendar!
This page last updated: 22 December 2005
---


If you have a comment, please leave it in the
guestbook
. To contact Flash directly, complete
this form
.
Like this site? Buy me a drink!
This site moved from a fixed width to the current layout in 2009. Some older content such as photo sets may still have a fixed width. However if you notice any pages which are actually broken, please be kind enough to let me know via
this form
.
© Flash Wilson 1999-2010.
I charge a fee for use of my photos
.
---